ORAL HYGIENE IN FIXED ORTHODONTIC TREATMENTS
A white, thin layer with full of bacteria, called plaque, is a sticky white substance that collects on our teeth after every meal. It is made up of bacteria, food debris and saliva. These bacteria produce acids harmful for the enamel layer, creating brown-white stains and discoloration and cavities if not brushed properly. Even if the orthodontic treatment is completed successfully, these stains are very hard to remove and can create a disappealing esthetic look. Gingival irritations, swelling, bleeding are also the results of plaque.
Patients need to brush teeth at least 3-4 times a day and it should take at least 2-3 minutes each time. Brushing before going to bed, and right after breakfast are the most essential ones.
1. Brush the Danger Zones!
The areas between brackets and gum tissue are called "danger zones". With proper attention, patients need to brush each area starting from gingiva to teeth with 45 degrees sweeping move.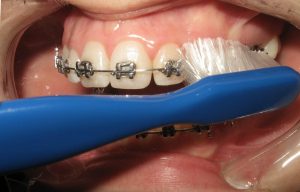 ---
2. Brush the Brackets!
Patients should hold the toothbrush horizontally and brush carefully each bracket. Afterwards, circular movements on the bracket will clean rest of the plaque.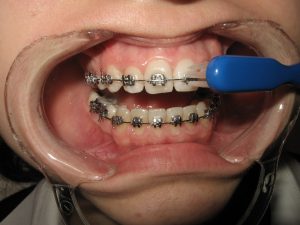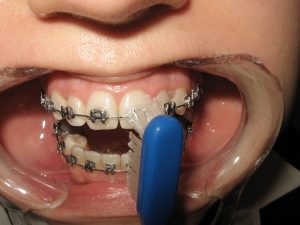 ---
3. Brush Between the Brackets!
Patients can hold the toothbrush vertically and clean between the brackets, or purchase interdental brush for special cleaning.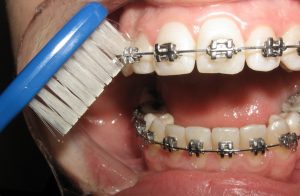 ---
4. Brush Lingual Surfaces!
With the same proper attention, patients need to brush the inside surfaces of teeth starting from the gum tissue to the teeth.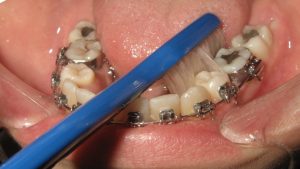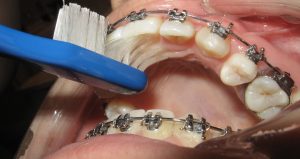 ---
5. Brush the Occlusal Surfaces!
Brush the chewing surfaces of the back teeth as well as of the front teeth.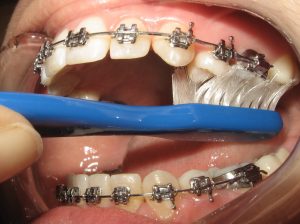 ---
6. Rinse, and Check Your Teeth, Gum Tissue and Braces!
Patients should check if there are any remaining food debris on teeth and brackets in front of a mirror. Checking the "danger zones" are especially crucial for a proper oral hygiene.
---
7. Patients are Also Advised to Floss and Rinse Before Sleep.
ORAL CARE IN REMOVABLE APPLIANCE TREATMENT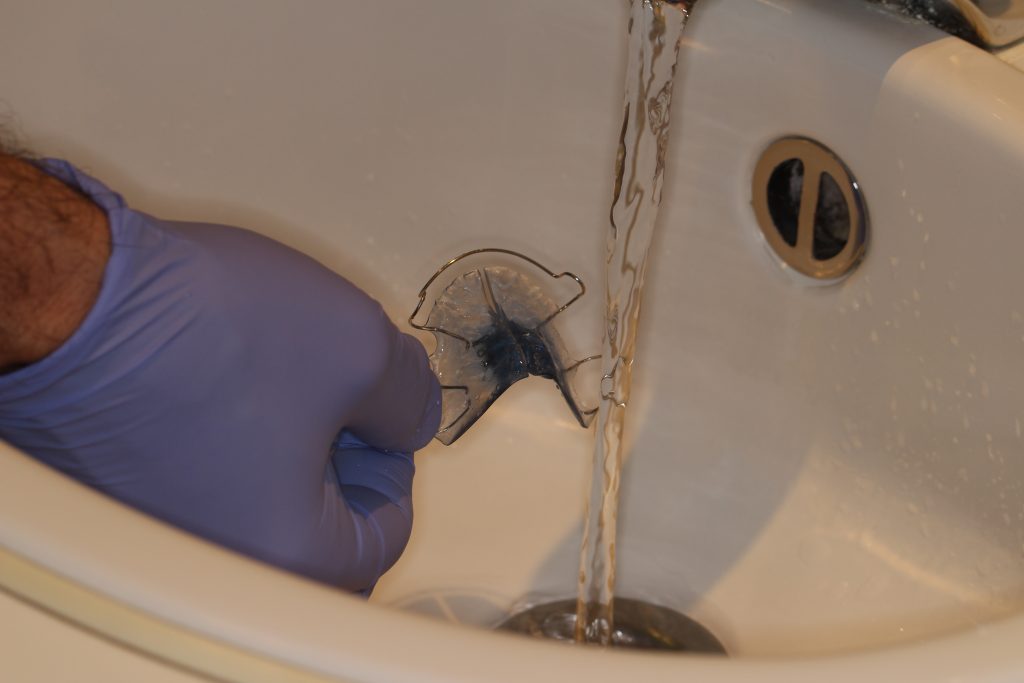 Removable appliance should not be cleaned under very hot water. Hot water might alter the shape of removable appliances and it might not fit the patient's mouth afterwards. Patients should take the appliance out for brushing teeth, and afterwards should brush the appliance as well before putting it back to mouth. Debris left on the surfaces of the appliance might create bad odors if not brushed and cleaned properly.
ORAL CARE iN INVISALIGN TREATMENT
Cleaning invisalign aligners is similar to removable appliance cleaning. After regular toothbrushing, aligners should also be brushed and cleaned to avoid plaque accumulation. After brushing, aligners should be rinsed under warm water
FOODS THAT ARE NOT ADVISED TO CONSUME DURING ORTHODONTIC TREATMENT:
Hard nuts like macadamia nuts, pistachios, almonds
Pomegranade, quince, chestnuts
Food that came right out of the fridge like chocolate
Foods with hard texture like apple, pear, peach, carrot, cucumber
Chewing gums
Turkish delights, nougats
Acidic beverages like coke and soda should be consumed 1-2 times a week with straw if possible.
Food with seeds in it like plum, olives, cherries. Take the seed out first then eat them
No chewing gum