LOOSE BRACKETS
If a bracket pops out do not panic. This may happen. There is no need to get an immediate appointment if the patient does not feel any pain or irritation. Roll a piece of wax into a ball and press it onto the irritating part to cover it as instructed to you by us. Many minor problems can be resolved with a little effort at home. Feel free to call us to get an earlier appointment if there is pain or irritation.
---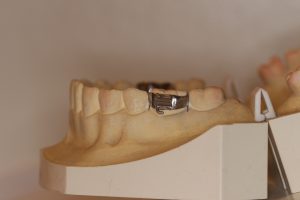 LOOSE BANDS
In some cases, bands may be glued to first or second molars. Due to chewing a hard or sticky food, the band may get loose and pop out of the tooth. Patients are advised to take the band out of the wire, or push it back if possible. Call our clinic in either case and get an emergency appointment.
---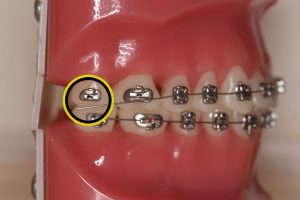 POKING WIRE
The wires moves freely inside the brackets and sometimes sticks out at the very back of the mouth. If you feel any irritation, a piece of wax can be put to cover the sticking out piece to relieve the irritation for few days and call us for an earlier appointment. There is no need to act if the patient feels no irritation.
---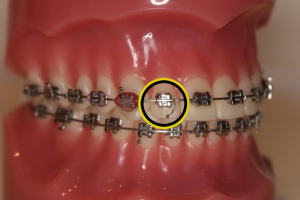 WIRE LIGATURE TAIL IRRITATION
To tie the wire into brackets, wire ligatures are often used in our clinic. The end of the ligature wires are forced beneath the wire to prevent any irritation. Sometimes, the tail of the ligature wire sticks out start to irritating the the soft tisuues. You can try to push the tail underneath the wire by gently force using the eraser at the end of a pencil or cover the tail with the wax until you visit our clinic. Feel free to call for an earlier appointment.
---
IRRITATION ON CHEEKS AND LIPS
Cheeks and lips are in close contact with teeth. At the first days of treatment, brackets may rub against cheeks and lips, and might create ulceration areas. Feel free to call us and inform about the problem. Covering the irritating part with wax might stall pain for a while. Gels can also help the ulceration area recover faster. The irritation will go away in few days. The cheeks and lips will adapt to brackets, patient will no longer have such further problems.
---
LOSS OF REMOVABLE APPLIANCES
Call us immediately. You'll be given an emergency appointment to get impression for a new appliance.
---
BREAKAGE OF REMOVABLE APPLIANCES
Removable appliances can be broken due to a lot of unforeseen reasons. Call our clinic and get an emergency appointment. Your broken appliance will be fixed if possible, or a new impression will be taken for a new one.
---
LOOSENING OF TEETH
The purpose of the orthodontic treatment is to move teeth to desired position. During this treatment, loosening of the teeth is common and this should not upset you. The teeth will again become rigidly fixed following removal of the braces. Teeth must be loosen first so they can move to their new positions.
---
SORENESS DURING USE OF ELASTICS
It's very common to feel tenderness at first. This lasts only a few days. Not wearing elastics as instructed will only make the tenderness last longer and toothj movement will require more time. The rule of thumb is to be "patient". Our patients are advised to take a pain killer if needed during this period.