WHAT IS CARRIERE MOTION APPLIANCE?
Carriere Motion Appliance is an esthetic appliance designed to treat Class II jaw irregularities at the initial phases of the treatment. With the help of Carriere Appliances, overall treatment time is reduced, the motivation and cooperation of the patient is kept high.
---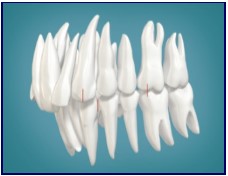 WHICH PATIENTS ARE SUITABLE FOR CARRIERE APPLIANCE?Carriere Motion Appliance is used for patients with protruded upper jaw, or retruded lower jaw.
---
HOW IS CARRIERE APPLIED TO TEETH?
One end of the carriere appliance is bonded to upper 1st molar, while the other end is bonded either to upper 1st premolar, or the upper canine tooth. Lower teeth are either bonded, or the patient is given an essix retainer for lower teeth. Brackets are also bonded to lower first molars as well, for elastic usage.
---
HOW DOES CARRIERE EFFECT TEETH?With the use of elastics, upper teeth tend to go backwards, while the lower teeth and lower jaw tend to move forward and create a stable occlusion.
---
HOW IS THE ORAL CARE WITH CARRIERE APPLIANCE?If an essix retainer was given to the patient for lower teeth, it should be rinsed and put into its box before meals. After brushing, essix retainer should be brushed as well to prevent bad odors. Regular tooth brushing can easily be done with Carriere appliance in mouth.
---
WHAT IS THE DURATION OF THE CARRIERE TREATMENT?The treatment may last up to 8-9 months. The usage of elastics, patient's oral hygiene and the severeness of the jaw relationship decides the treatment duration.
---
HOW DO YOU USE ELASTICS?
Elastics are used between the lower first molar and upper canine / premolar. Elastics should be worn 22 hours a day except meals.
---
WHAT WILL HAPPEN AFTER CARRIERE APPLIANCE TREATMENT?After obtaining a proper occlusion with Carriere Appliance, upper and lower teeth are bonded with brackets and a regular fixed orthodontic treatment occurs.